You

CAN

draw and paint
with Angela Birchall
Incorporating
Art by Angela Birchall
and
The Art of Stress-busting
Email:
youcandrawandpaint@gmail.com
Discover how art can change your life
Achieve positive mental health with
"The Art of Stress-busting"
The Art of Stress-busting is especially for anyone who is stressed out and finding life tough for whatever reason, who wants a place to chill out and be creative and to learn new, very positive things.
It is also ideal if you just want to take up a new creative hobby or you are already an artist who would like to try out a new medium.
It is designed to be done by anyone at any level in art from beginner to advanced with the smallest outlay of materials and accessed on a monthly subscription basis of just £20 . . . that's a mere 67p a day!
Switch into creative mode
The Art of Stress-busting is designed to take you away from the stresses of everyday life and show you how to relax and let your creative energies flow by switching between the two hemispheres of your brain. Instead of spending all your stress-filled days in the logical, linear, time-centred, left hemisphere of the brain, discover how to move into the creative, relaxing, rejuvenating, timeless reverie that is right hemisphere mode.
It is in right hemisphere mode that the artist "sees" in the way that captures aspects of a subject that you just don't see in the left brain mode which categories everything into stereotypical images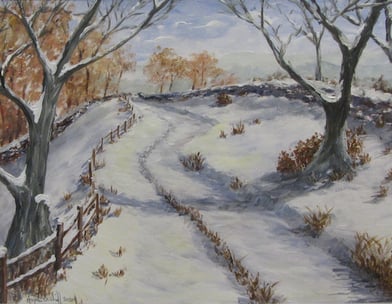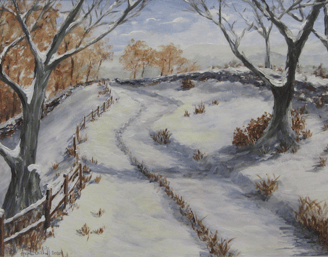 Choose from painting sessions using watercolours, acrylics or soft pastels, drawing sessions with pencil, soft pastel or oil pastels, or sessions that cleverly combine the benefits of different media.
Be inspired with a selection box of subjects including landscapes from woodland walks to riverside strolls in all seasons and times of day, tasty still life arrangements, bouquets of blooms and fields of flowers.
Gain valuable insights with tutorials offering tips and techniques in the use of each of the different materials and media as well as how to create pictures with great composition.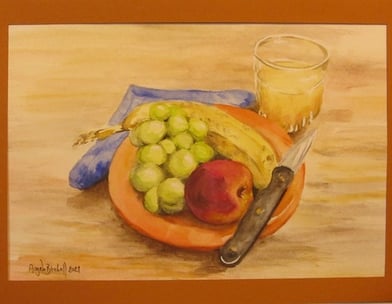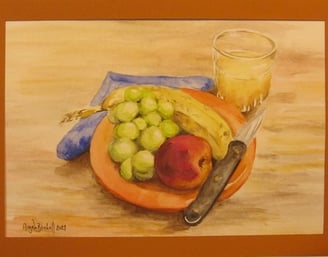 Each of the lesson packages in The Art of Stress-busting centres around an instructional video of the painting or drawing exercise for you to follow along with me step-by-step to create your version of the picture. New lessons and tutorials will be added every month to keep inspiring you.
Unlike attending face-to-face classes, you get a close-up view of the painting demonstration, the videos can be accessed any time that suits you, plus you can stop them at any point, rewind and replay or return to them weeks or months later as a fantastic way to chart your progress. Each lesson package also includes a downloadable pdf of the outline drawing that you use to begin the painting.
The Art of Stress-busting is hosted in a private Facebook group which you will have access to for the duration of your subscription where you will find all the lesson and tutorial packages.
It is also a great space in which to meet other arty stress-busters, ask questions, share hints and tips, inspire and be inspired by your fellow artists, share images of our work and curate online exhibitions so we can bring everyone together no matter where in the world they are actually based.
We can all meet up there for chats and challenges, but if you want a private word, you can also book a one-to-one online tutorial or coaching session with me.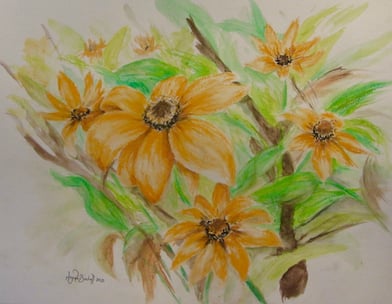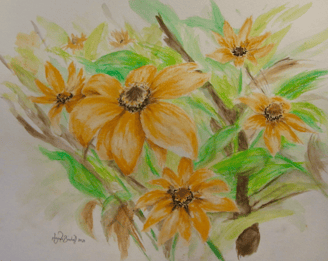 You access The Art of Stress-busting by a monthly subscription of only £20 – that's a mere 67p per day!
You are not tied into a long commitment, so you can cancel your subscription at any time, or you can buy a certain number of months subscription as a gift for someone who can then choose to continue.
Sample a free taste of stress-busting creativity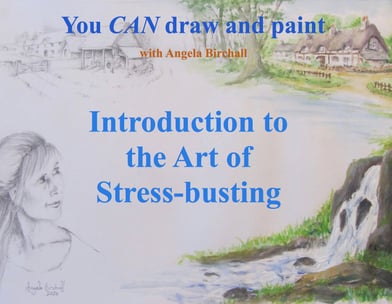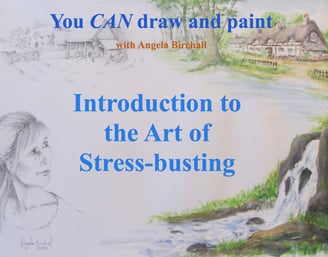 The FREE taster package is designed to give you a flavour of the range of relaxing, creative lessons and sessions waiting for you in the main programme.
In the first helping on our taster menu the Introduction to the Art of Stress-busting you'll discover how and why we are more creative and relaxed in right hemisphere mode than in left, and see samples of art produced in both left and right hemispheres
You will discover that which side of the brain you are operating in determines the way you look at that same object and thus how you depict it. Once you understand this you can learn how to instantly switch from left to right and how to stay in right hemisphere mode even if the dominant left side is trying to regain control.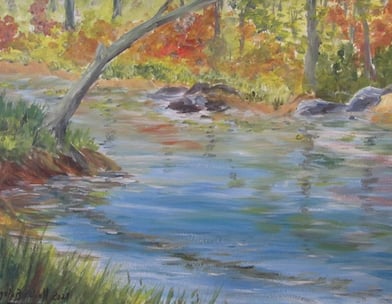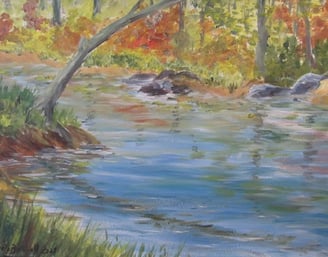 Choice of two main courses
This taster package has a choice of two main courses – or help yourself to both of them – where you follow me in a step-by-step video tutorial lesson creating a painting of a walk through the woods in either watercolours or acrylics. If you are new to these media, there are video tutorials in how to mix colours and apply the paint as well as buying tips showing that you don't need to spend a fortune on expensive art materials.

Our taster menu rounds off with full details of the exciting range of painting and drawing lessons and sessions as well as informative tutorial chats that await you as soon as you subscribe to the full programme.

Simply drop me a line in the message box below and send me your name and email so I can enrol you on the FREE taster package the Introduction to the Art of Stress-busting.
Don't take my word for it, try it out for yourself with the FREE taster package.
Just use the message box below to enrol on The Introduction to the Art of Stress-busting
Creating bespoke events for staff development
Creative activities are not just brilliant stress-busters, they also boost levels of confidence and self-esteem at the same time as they engender the ability to see new ways to find solutions to problems. That makes them invaluable tools for anyone to master in the hectic world in which we are working.
I can create bespoke events for your staff to help them to develop these qualities as well as enhancing team-work, co-operation and leadership. These events can be delivered on your premises or at an external venue.
There is also a special offer for bulk membership of "The Art of Stress-busting" so that your staff can all have access to the programme whenever they want to switch off the stresses of everyday life and switch over to that relaxing, rejuvenating, creative reverie.
Just contact me on the form below to chat about how I can help your workforce.
Help your workforce find new solutions, develop relaxation, and improve their team-work