We'll show you We CAN draw and paint
Ten leisure artists are coming together to exhibit their work in public for the first time ever because of one thing they have in common: they are members of my "You CAN draw and paint Academy" tutored art group. Read about their discovery, or rediscovery, of their artistic abilities and the inspiration behind the work they are putting on exhibition in August.
PICTURE PERFECT: ARTWORKS AND EXHIBITIONS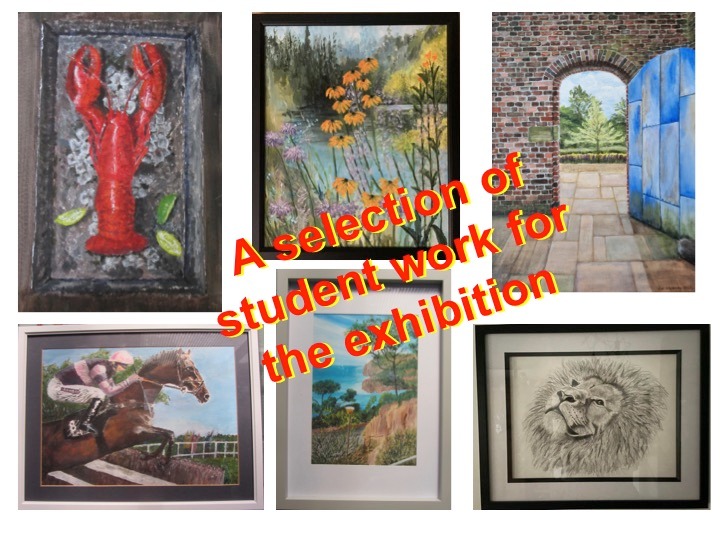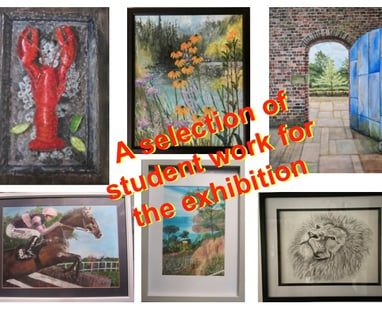 Their backgrounds vary from teaching and nursing to education law, finance and catering but these ten artists all have two things in common: they have all discovered that they really CAN draw and paint and they are all exhibiting their artwork in public for the first time!
The group are members of my "You CAN draw and paint Academy" and attend my weekly tutored group in Scarisbrick Village Hall. In these sessions they all work on whatever artwork they choose in whatever medium they prefer while I circulate offering advice, guidance, encouragement and tuition from my 48 years experience as an artist and teacher.
From August 8-19, they are having an exhibition at the ArtHouse gallery in Southport. The work on display clearly shows the flexibility of the tutored group format as paintings and drawings range from flowers to landscapes, with racehorses, Royal Ascot, a lion and a lobster in between! These are depicted in acrylics, watercolours, pencil and pastel.
The format of the tutored group allows everyone to explore favourite subjects or brand new ones, in a medium with which they are familiar or to try out a totally new one, and to work at a pace that suits each person. They can experiment and develop their individual creativity always knowing that I'm there as a safety net for them if needs be.
I absolutely love tutoring this group; the creative energy and the wonderful support and encouragement that they give each other is incredible. I am so proud of them stepping up to the plate and taking part in their first public exhibition.
However, they will not be exhibiting entirely on their own as my work is in the side window display panel because I am the Southport Contemporary Arts "Artist of the Month" during August. The group is also following in my footsteps having recently been to see my solo exhibition at the same gallery.
Each of the ten artists have added a few comments on their art background and the inspiration behind the work on show. A few had never painted before but most remembered how much they enjoyed art at school yet had neither the time nor the opportunity to develop their art into their adult lives – until they saw adverts for my art classes:
Val Warmsley said she could see what she wanted to paint, but couldn't translate the painting she saw in her head onto paper. "From a very young age I have loved to draw and paint, and because I grew up in a rural area and have a constant and abiding love for nature, I've always been inspired by the natural world in my art. So, landscapes, skies, trees, plants, flowers, water - these will likely feature in every painting. Problem was I was never any good at it.
"Since starting in Angela's classes I have learned so much, and feel that it's not just my skills that have increased a thousand fold, but my confidence too. I feel I am producing work that goes way, way beyond what I was capable of not even a year ago, and am gradually introducing new elements to my work, like man-made structures - but with nature still there as a constant. And all of that is due, not just to Angela as a fantastic teacher, but also to the rest of the Wednesday group as fantastic students."
Sandra Morrison joined the art classes when they started in Ormskirk in May 2021 and she says: "Angela provided a great introduction to watercolours and her guidance and enthusiasm inspired me to continue with this art form.
"I have enjoyed painting landscapes and cityscapes and recently provided art work for my son's wedding. I find the process to be relaxing and totally absorbing."
Alan Proffitt also started classes just after lockdown: "My interest in art developed at school where I achieved a top grade at GCE. There is a family history of artistic talent which I was always aware of but did not have the time to see how I matched up to them and I had other commitments and interests.
"Since joining the classes my interest has been rekindled and I learned how to work in watercolours and now enjoy acrylics. I started off with landscapes and have moved on to painting animals and characters."
Wendy Dixon explains: "I have always had an interest in art and other crafts since school, but in particular in drawing with pencil. Due to a demanding career it is only recently that I have been able to seriously make time to develop these skills and I am loving every minute.
"I like challenging myself so have chosen these pieces in the exhibition as I have not drawn plants or animals before."
Bev Waugh only started drawing and painting again last year as she explains: "I hadn't really had the time to do any since leaving school, but I remember how much I enjoyed it as a child.
"Creating art gives me time to do something different from the day-to-day routines and it's always interesting to see how it turns out."
Jackie Horner also used to enjoy art at school and after retiring from nursing decided to take it up as a hobby: "I find it both rewarding and relaxing. I enjoy the classes so much, meeting other people and having a very helpful, patient teacher."
Christine Charnock is a complete newcomer to this art form as she explains: "I have never painted before, not even at school, but started painting with my tutor Angela about 18 months ago as a place to relax and learn.
"My favourite subjects are landscapes and I like to use watercolour or acrylic paints."
Jayne Duckworth is another who had never tried drawing or painting until she started classes two years ago. "It was all entirely new to me, however Angela has patiently guided and encouraged me, and I absolutely love my new hobby!
"So far I have worked in watercolours, acrylic, pencil and pastels but my favourite medium has to be acrylic, and using mainly just the three primary colours plus black and white is absolutely fascinating. Learning to mix my own colours is something I would never believed possible two years ago! I love every minute of the art classes and am so proud to be submitting a few examples of my latest projects!"
Marie Ward's background was in education law so she says: "I saw art classes as a means of allowing my mind to drift & wander. I enjoy experimenting with colour and developing visual expressions of my thoughts."
Patricia Goudie's casual interest in art was interrupted by illness that has meant having to retrain herself to use her left hand but she's now getting back to painting and says: "The tutored classes are ideal for my needs. I'm gathering confidence and knowledge all the time. Watercolour is my preferred medium but I am also enjoying pastels after recently learning how to use them."
The You CAN draw and paint Academy group exhibition takes place in the ArtHouse Gallery, Eastbank Street, Southport, from Tuesday August 8 to Saturday August 19, and a number of them will be available for sale. The gallery is open Tuesday to Friday 10am to 3pm and Saturdays 11am to 4pm; closed Sunday and Monday.