You

CAN

draw and paint
with Angela Birchall
Incorporating
Art by Angela Birchall
and
The Art of Stress-busting
Discover how art can change your life
Learn to paint in acrylics or watercolours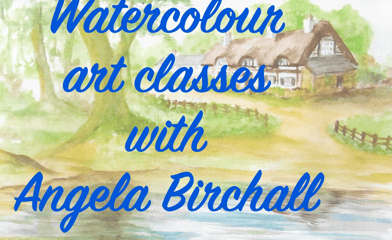 Fancy relaxing and getting creative? Then why not join my next painting classes in either acrylics or watercolours?
In either sets of classes you follow me step by step from preparatory drawing to finished painting, so they are ideal for beginners, intermediate or those returning to painting after a break.
The classes are fun and social (my only rule is that there are no mistakes, only experiments) but they are not social "daub and chat" gatherings, they are explicitly taught lessons so that you learn the different techniques whether it is in the initial drawing, such as using perspective, or in the mixing and application of paint.
Private art coaching either face-to-face or online
If you want some private art coaching rather than working in a group so that you can focus on specific areas of development and interest, then we can arrange either regular or one-off sessions at mutually convenient times. These can either be face-to-face (if you live locally) or via one of the online chat forums.
To chat about your requirements for the lessons, just get in touch via the message block at the bottom of the page.
I am still buzzing over yesterday's lesson! And my portrait! I still can't believe what I produced, I feel like yesterday's lesson was the most exciting lesson I've ever taken. And the way you explain the concept of the right/left brain seems perfectly logical to me, and very exciting just thinking of the possibilities ahead! I'm so glad I signed up, thank you so much, I feel like you have given me a special gift.
Jayne
I can honestly say, as one of Angela's students, these classes are amazing! Such a relaxed atmosphere, lots of encouragement & constructive criticism.
Delia
On behalf of Flo, thank you so much for reigniting her love of art and for giving her the confidence to create her own pictures x Flo has learnt so much from you Angela
Emma
We are both enjoying the class so much; can't believe the last picture we painted was so good. Many thanks.
Linda
For anyone who fancies having a go at painting and drawing I would highly recommend this lovely lady - Angela Birchall. I was lucky enough to have a painting tutorial in France with Angela a couple of years ago and it was the most glorious experience. I've signed up to the free starter tutorial Angela is offering. I trust Angela implicitly and she is such a genuine, warm and caring person who really wants to empower people to enjoy painting and drawing.
Annabel
I would like to say that you have been the most wonderful teacher, kind, patient and full of helpful knowledge.
Kathryn
Thank you for the art classes, it really has rekindled a passion!
Susan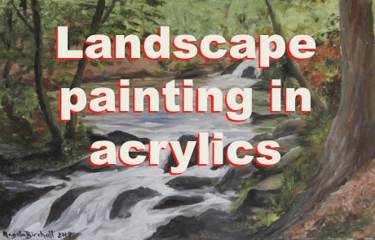 Places are limited and will be allocated on a "first paid, first served" basis, so if you want to join or get more details, please message me or email youcandrawandpaint@gmail.com as soon as possible.
Meanwhile, have fun and keep it creative,
Angela
The acrylic painting classes are held in Scarisbrick Village Hall, Smithy Lane on Wednesdays from 1-3pm while the watercolour classes are held in the Guide HQ in Green Lane, Ormskirk on Fridays from 10am to 12 noon.
The classes run in a continuous cycle of 4-week blocks so that we can take 2-weeks per painting and explore different techniques, styles or subject content and achieve more complex paintings. All materials are provided and the cost is £40 for the 4-lesson block, payable in advance.
The next blocks are Wednesdays September 14th to October 5th for acrylics classes and Fridays September 16th to October 7th for the watercolour classes.
Get inspired to work in situ, en plein air
Lessons will give you the skills and confidence to enable you to go out sketching on location . . . but it's twice as much fun if you go with friends
Selection of paintings from watercolour classes